< back to all case studies
Malaysia Emergency Operations Center (EOC) Case Study
Oct 26, 2020
Badrul Samad1, Brenna Means2, 3, Ileana Vélez2, 3, James Banaski3, Claire J. Standley3*
1 Faculty of Medicine and Defence Health, National Defence University of Malaysia, Kuala Lumpur, Malaysia  2 School of Continuing Studies, Georgetown University, Washington DC, USA 3 Center for Global Health Science and Security, Georgetown University, Washington DC, USA 
* For questions and correspondence: claire.standley@georgetown.edu
Key Facts
Malaysia's Ministry of Health Crisis Preparedness & Response Centre (CPRC) was established in 2007 and constitutes a Public Health Emergency Operations Center (PHEOC) network across all 13 states and federal territories.
In addition to leveraging past operational experience, the Ministry of Health has benefitted from technical assistance and resources provided by the WHO and the US Centers for Disease Control and Prevention.
The National CPRC serves as the lead for the regional southeast Asia network of PHEOCs.
The Malaysian PHEOC network has been a key component for the COVID-19 response, supporting critical activities such as risk assessment, mobilization and distribution of personnel and material, and communications.
The pandemic has resulted in physical upgrading of the National and several state CPRCs, as well as the inclusion of volunteers as surge personnel.
Challenges remain in terms of protecting staff, and ensuring other health programs, such as dengue control, are not neglected due to diverted resources.
District level operations staff would benefit from in-person training on Incident Management Systems; refresher training for experienced personnel could potentially be provided through remote support.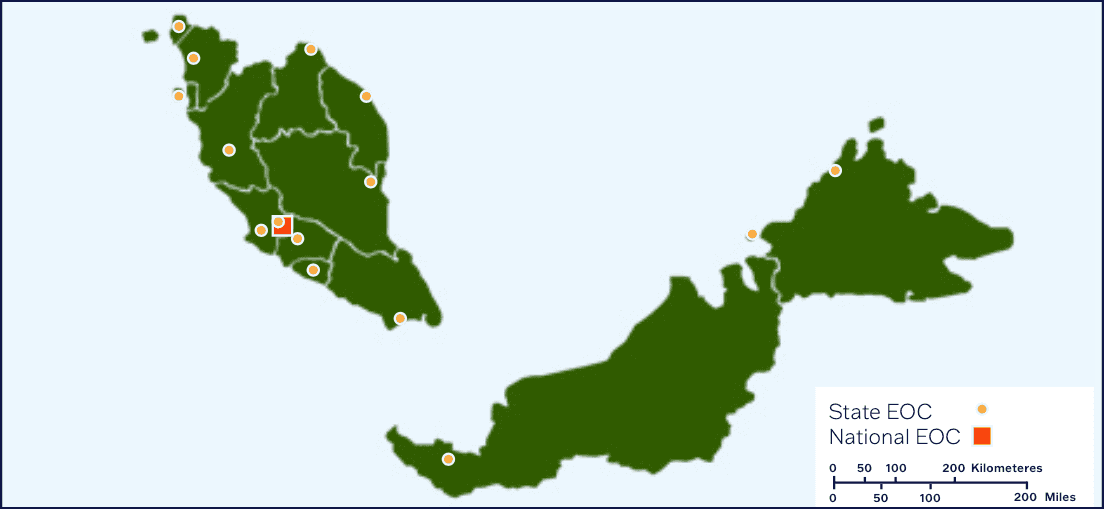 Map of the locations of each of Malaysia's National and state-level CPRCs, forming the national public health emergency operations center (PHEOC) network
Establishment and Operation of the EOC network
Established in 2007, the Ministry of Health (MoH) Crisis Preparedness & Response Centre (CPRC) in Putrajaya originally dealt with nationwide communicable disease outbreaks using a legal mandate under the Prevention and Control of Infectious Diseases (PCID) Act 1988 (also known as Act 342). Starting from 2013, as it expanded its scope to encompass an all-hazards approach, the CPRC now also uses the National Security Council (NSC) Directive No. 20 to support its legal mandate to coordinate public health emergency response to disasters at the national level. 
All the states in Malaysia have their respective state level CPRC (PHEOC) manned under the public health program located at each state health department. Just like the National MoH CPRC, all State CPRCs are running 24/7 and 365 days a year via passive versus active modes (watch mode vs response mode). Most of the time, the State CPRCs receive public health emergency alerts and notifications from District Health Offices at the district level. Due to resource constraints, there are no CPRCs operating at the district level but the District Health Office will open up an Operations Room (Ops Rooms) on an ad hoc basis to deal with public health emergency events occurring within the jurisdiction of the district. The MoH Malaysia uses Incident Management System (IMS) in operating all the CPRCs and the Incident Command System (ICS) when executing public health emergency measures at the field alongside with other agencies. 
Initially, CPRC activities were designed, developed and operationalized based on the MoH Malaysia's own past experience via Ops Room functions when dealing with major outbreaks in the country. Following the World Health Organization (WHO) recommendation for all member states to adopt their PHEOC framework, as laid out via the "Framework for a Public Health Emergency Operations Centre1" published on 15 December 2015, the Malaysian MoH formally engaged the WHO and the United 
States' Centers for Disease Control and Prevention (US CDC) to have a structured training on implementing the PHEOC framework. As a result, the US CDC, through its Global Emergency Management Capacity Development (GEMCD) Division of Emergency Operations, conducted a series of four intensive PHEOC Training of Trainers (TOT) courses to MoH Malaysia officials in 2018 – 2019. These courses took place in Malaysia, and training resources including template hardcopies and soft-copies were shared by the US CDC trainers during the training events. In addition, two MoH public health doctors were sent for a three-month attachment training at the US CDC in Atlanta in 2018. Source materials used by the US CDC to support the trainings were based on Incident Management System (IMS) through following PHEOC TOT syllabus i.e. PHEM 101; PHEM 211; PHEM 231; PHEM 241; PHEM 252; PHEM 260; PHEM 261; PHEM 270; PHEM 291; PHEM 351; PHEM 400; and PHEM 411. 
Regional Collaborations
In the Association of Southeast Asian Nations (ASEAN) Health Cluster 2 Work Program, the MoH Malaysia is the lead for PHEOC hub of the ASEAN's 10 member states. Thus, every one to two months, the MoH Malaysia CPRC holds a video conference with all other ASEAN PHEOCs for meetings, regional updates and continuous medical education (CME) sessions. Also, regional updates are shared among the 10 member states through bulletins produced in every quarter of the year by the ASEAN Health Cluster 2 secretariat. 
Every year, the MoH Malaysia CPRC actively conducts simulation exercises nationwide with State CPRCs in many forms i.e. table-top exercise (TTX), functional exercise and full scale exercise (FSX). Also, without fail, the National MoH CPRC participates in an annual International Health Regulations (IHR) Crystal TTX conducted by the Manila-based WHO Western Pacific Regional Office (WPRO) involving all WPRO member states. In December 2018, the MoH Malaysia CPRC was the only PHEOC from the Western Pacific Region that participated in a four-day Geneva-based WHO Global Emergency Operations Centre Exercise (GEOCX) on Pandemic Influenza A(HxNy) TTX. 
Support to the COVID-19 response
The National CPRC has been performing many core activities, including risk assessments, producing and disseminating interim and updated national COVID-19 guidelines and the verification of COVID-19 notifications. The medical related activities performed by the CPRC have included confirming COVID-19 cases through validated laboratory results, studying and analyzing the epidemiological links of COVID-19 cases, and updating global and nationwide COVID-19 cases and death numbers. 
Additional activities have been the support and coordination of the mobilization of personnel and medical countermeasures (including medications, PPEs, laboratory kits etc.) for COVID-19 response at the field and the coordination with other agencies for COVID-19 preparedness and response, for example international border control and screening, quarantine measures etc. The National CPRC have also been providing technical consultations on government economic and social standard operating procedures (SOPs) during COVID-19 containment and recovery phases. 
On the communications front, the core activities have included risk communication, preparing daily media and press release statements, providing and disseminating daily COVID-19 updates and reports, providing COVID-19 (including mental health consultation) hotline channels via telephone, email and social media platforms to the public and continuing the global, regional and nationwide COVID-19 surveillance. 
During the pandemic, the National CPRC and many of the State CPRCs were upgraded in terms of expanding their physical working spaces and improving their internet connectivity together with better / latest audio and visual aid equipment as well as communication devices. More personnel from other divisions were deployed to run the CPRC and manage the hotline call center by shift rotation. A number of volunteers from non-governmental organizations (NGOs) also gave their helping hands to the National CPRC especially in manning COVID-19 mental health consultation hotlines. 
The National MoH CPRC (PHEOC) connects to other national multiagency EOCs, including the National Disaster Command Centre (NDCC) run by the National Disaster Management Agency (NADMA), the Malaysian Command Center (MCC) run by the Royal Malaysian Police (RMP), and others. They coordinate on regular basis via face-to-face meetings, online meetings and emails as well as through media social platforms for information sharing and response coordination. 
The WPRO and the WHO Kuala Lumpur Office have provided direct technical consultation to the MoH CPRC during the COVID-19 pandemic, and as with activities prior to the pandemic, the WHO PHEOC Framework has served as a key guidance document, along with the US CDC's IMS syllabus. 
The greatest challenge that the COVID-19 pandemic response poses to the functioning of the Malaysia EOC network is ensuring that the National CPRC and all State CPRCs are continuously operational, with no or minimal number of CPRC personnel contracting the infection. The COVID-19 pandemic response efforts have slowed down other medical and public health program activities under the MoH Malaysia as more resources are being diverted to COVID-19 countermeasures. Among the badly impacted programs is dengue control, which has seen a rise in dengue cases in recent months throughout the country. 
Future Opportunities
IMS is currently workable and very beneficial for the MoH National and State CPRCs as they are currently implementing IMS directly in the operations of EOCs. Hence, further training on IMS will need to be extended to district level. 
Remote technical assistance would be sufficient as a refresher guidance for those who have been trained in IMS / PHEOC framework but not sufficient to those without having basic training courses in these areas. Self-directed or online learning for PHEOC staff may not be feasible while the country is still struggling in containing the COVID-19 pandemic. It would be more practical to conduct online learning during the post-pandemic phase. 
It should be noted that the MoH Malaysia has not yet conducted nationwide PHEOC local training courses involving district participants (after the National TOT courses it received from the US CDC in 2018 – 2019) due to COVID-19 pandemic. The MoH may need extra financial support to conduct echo training courses.